How To Update Opening Hours In Partner Centre
Updating your restaurant's opening hours or delivery hours in Partner Centre is quick and easy!
Is there a bank holiday or event coming up that you need to change your hours for? Then watch our quick video tutorial below or follow the simple step-by-step guide to learn how easy it is to instantly update your opening hours in Partner Centre.
1.
First, let's get you signed into Partner Centre. Click here to visit Partner Centre and sign in using your Partner Centre login details.
(If you can't remember your username or password, please get in touch with our support team).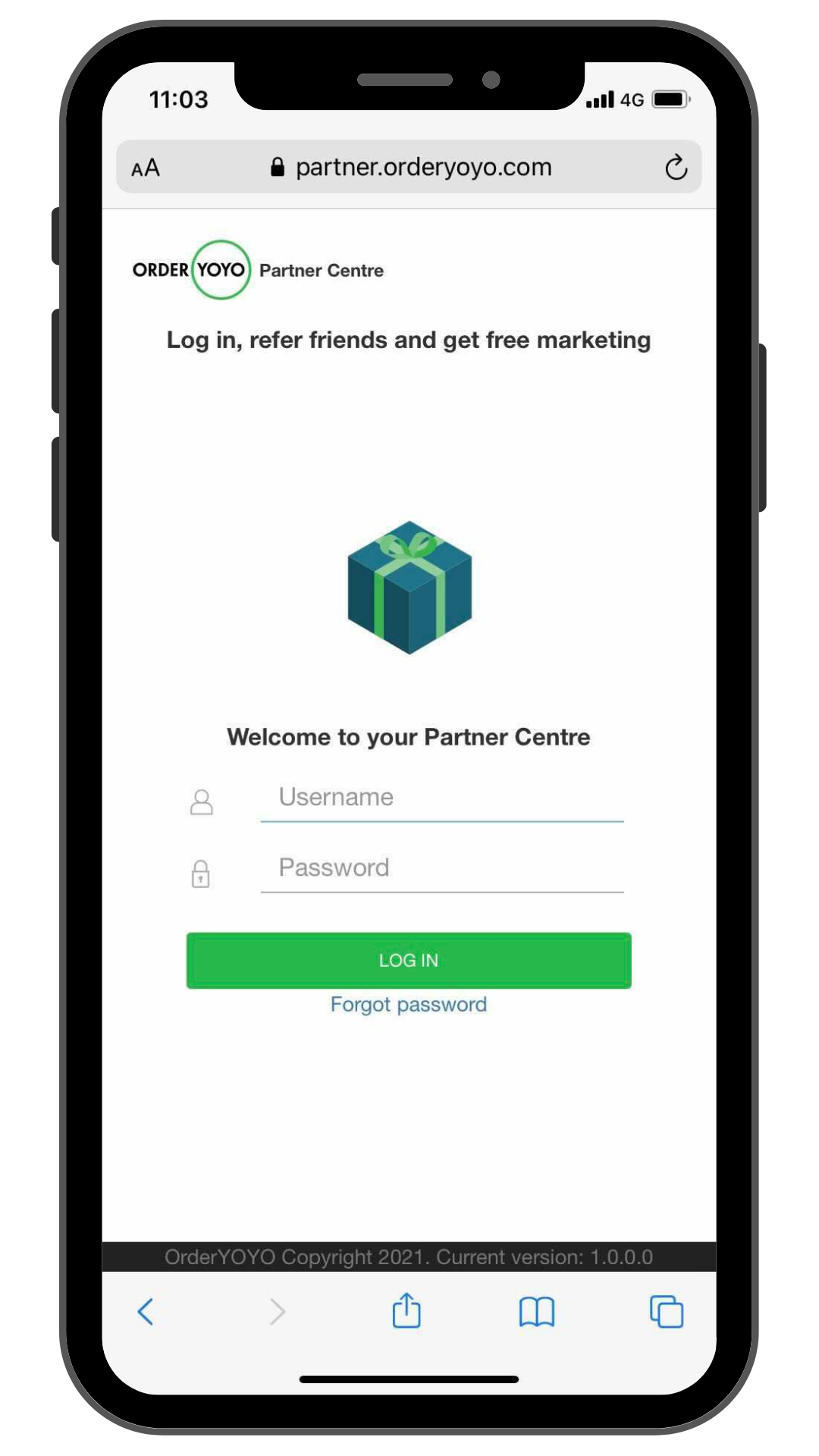 2.
Once you are logged into Partner Centre, go to the Quick Settings section and select 'Edit Hours' under Opening Hours.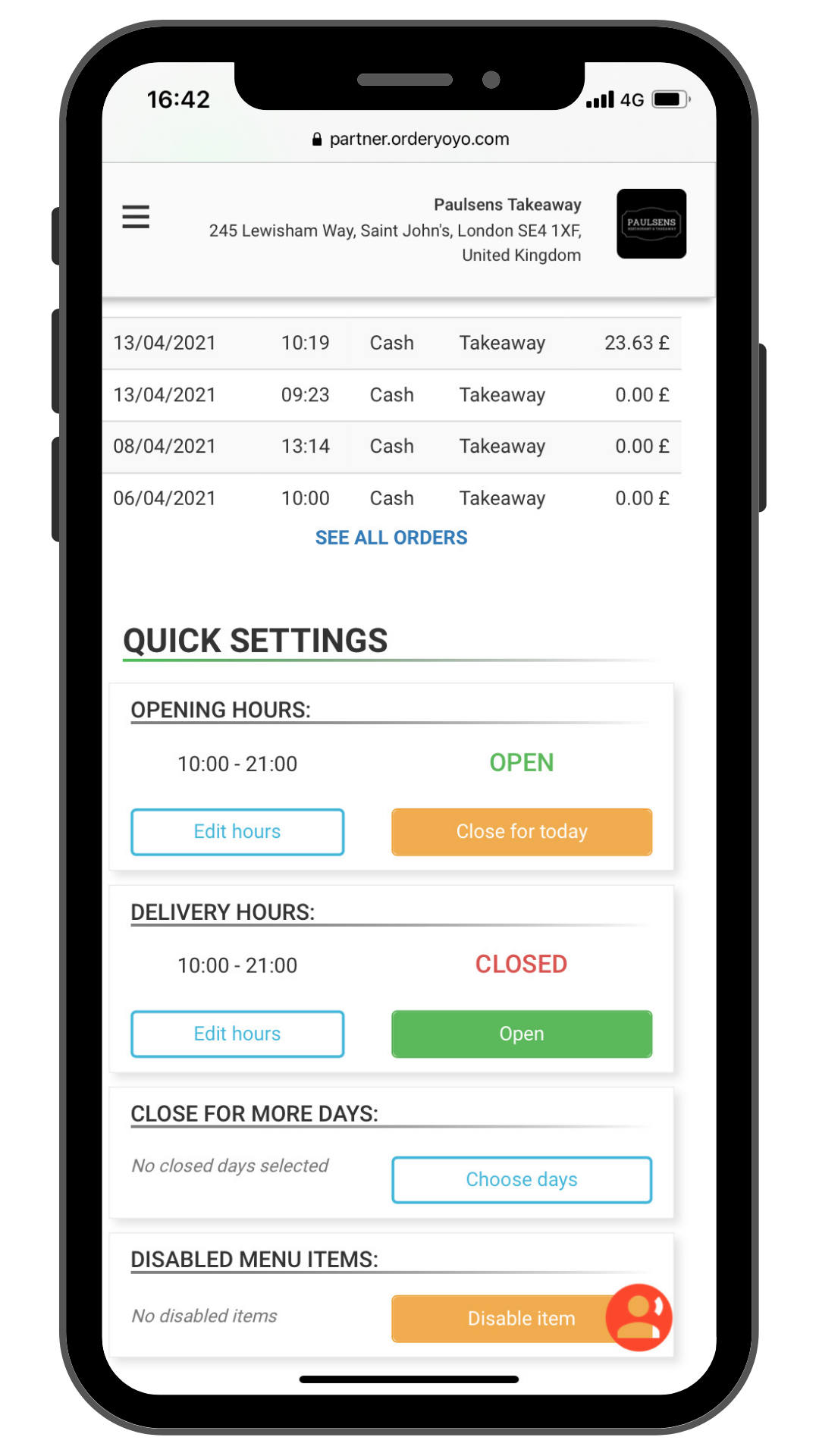 3.
Next, you will see your current Opening Hours for Monday-Sunday. To edit the opening time 'from hour' and closing time 'to hour' for any day of the week, simply click into the box where the numbers are displayed and change them. (Please use 24-hour format).
When you are happy with your opening hours, select 'approve'. (Please note, if you do not approve your hours, the changes will not be saved).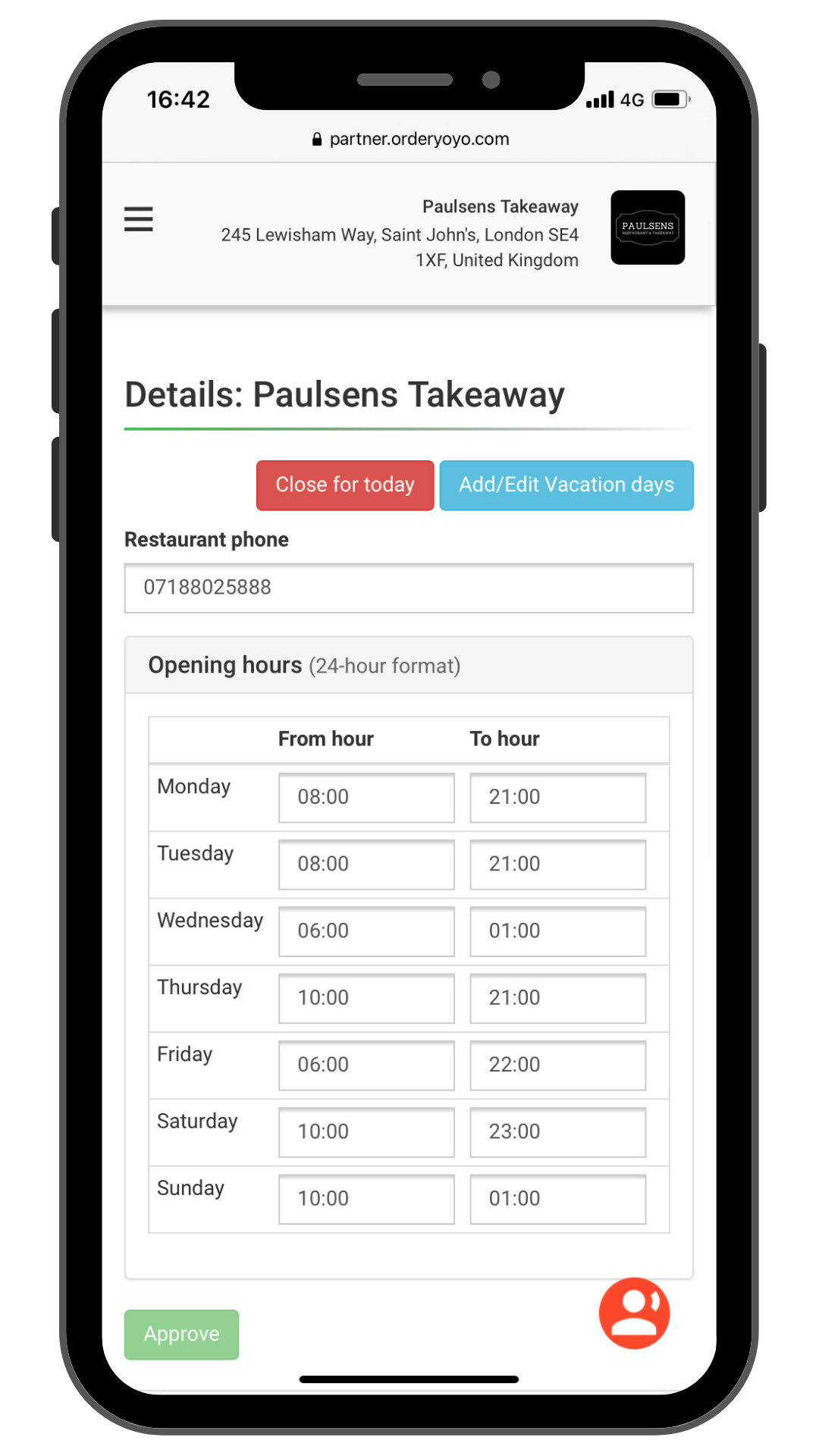 4.
Don't forget to update your Delivery Hours too! Scroll down to find the Delivery section and change the times here as well. Select 'approve' when you are happy.
Make sure that your delivery hours correspond to your opening hours. (At present, delivery hours cannot run earlier or later than your opening hours).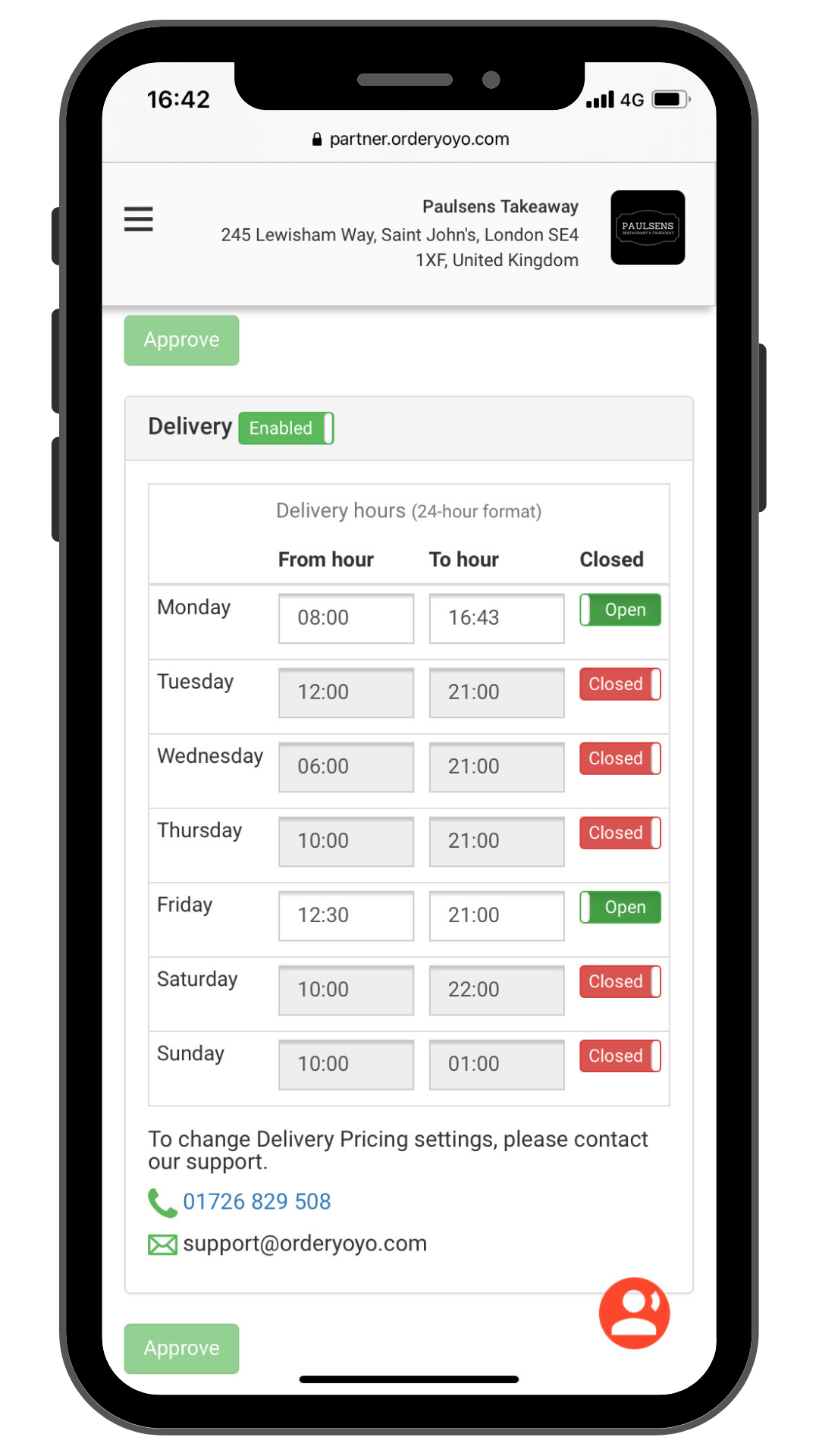 5.
If you are struggling to update your opening hours or are unsure, simply select the customer icon at the bottom right of the page in Partner Centre. This will display contact details for our support team who will be happy to help you!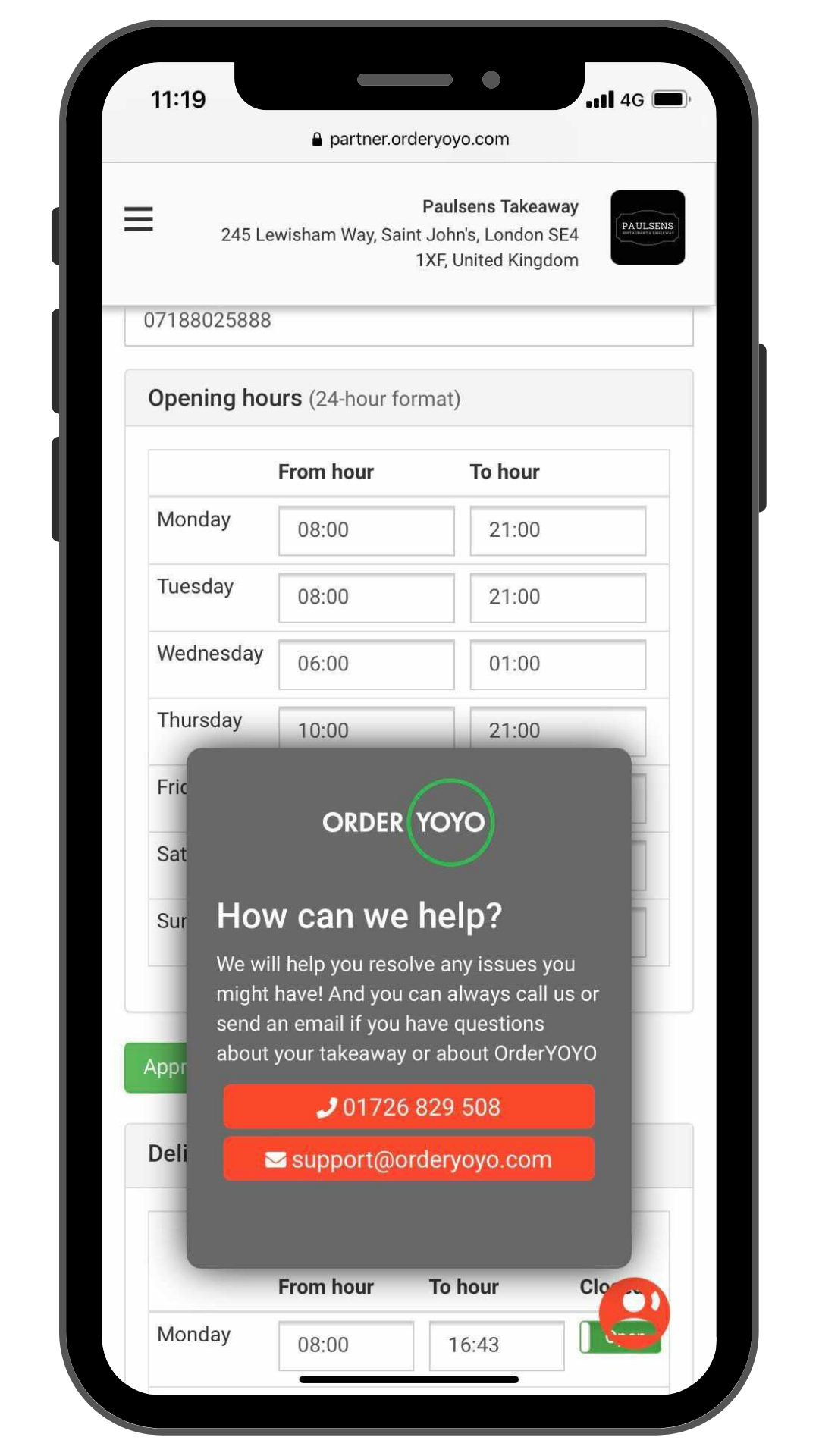 If you are changing your restaurant's opening hours for an event such as a bank holiday, please remember to revert your opening hours back to normal in Partner Centre after the event.
Please keep your business profile up to date in Partner Centre to avoid disappointing loyal customers – and remember, our support team are always here to help!
How to set your restaurant on vacation
If you would like to close for a longer holiday period (such as Christmas, New Year or Eid), you can easily set your restaurant on vacation in Partner Centre yourself.
A) Go to the Quick Settings section to find Close For More Days and select 'Choose Days'.
B) To close your restaurant on certain days, enter the date your restaurant will be closed from and the date it opens up again.
C) Don't forget to include a closed message for your customers and select 'Submit' when you are done. This will be displayed on your website while you are closed.