Positive customer reviews on the internet are great free advertising for your restaurant. Many diners look to the opinions of former customers online before placing an order with a restaurant or visiting it in person. These customer reviews are often a particularly effective form of advertising, as potential guests perceive the opinions of former customers as particularly objective and are more likely to trust their advice than obvious advertising.  
 
In this article, we introduce you to the most important platforms for online restaurant reviews (Tripadvisor, Google, Yelp, etc.) and give you helpful tips on how to positively influence the reviews of your restaurant on the internet.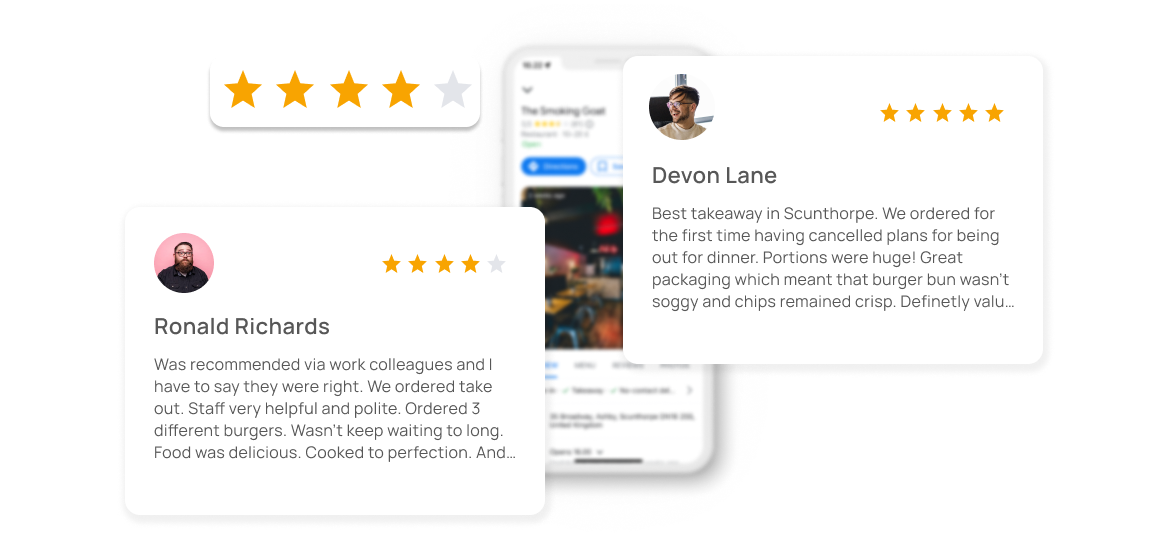 This is why customer reviews are so important for restaurants and delivery services
Despite the general importance and effectiveness of online marketing, customer reviews should not be underestimated. Many users nowadays know exactly how to recognise advertising on the internet. SEA and SEO are no longer technical terms known only to advertisers. In contrast to obvious paid advertising, reviews have a more reliable and authentic effect on new customers and have a great influence on the purchase decision. People tend to rely on the testimonials of former customers. Especially in gastronomy, hotels and leisure activities, these reviews play a big role in helping you stand out from the competition. Positive reviews can therefore help you to push the success of your restaurant enormously without additional costs.
 
Which rating platforms do customers use?
Across all industries, most customers intuitively still use the reviews on Google to find out about the opinions of other users. An up-to-date and well-maintained company profile on Google My Business is therefore enormously important in order to address the broad mass of potential customers. Positive side effect: Many reviews on Google can have a positive effect on the ranking within Google Search. Furthermore, Google offers the additional function of ordering food directly via Google Search or Google Maps through various partners such as orderYOYO.
Other important channels for restaurant reviews are Tripadvisor and Yelp. Both have a wide reach and are popular with customers whose research goes beyond pure Google search. In addition to the aforementioned platforms, social media presences should also be considered. Even though reviews are often not as decisive here, you should still have a Facebook page and an Instagram profile to stay in touch with your guests, spread current information and generally be present.
 
Set up the profiles on the individual platforms carefully and make sure to keep the information up-to-date. In addition to the reviews, appealing photos of your restaurant can also help to attract new customers. 
Motivate your guests to leave reviews
Guests generally have two motivations to leave unsolicited reviews of your restaurant: either they are absolutely convinced of the quality and service, or they have had a bad experience. Unfortunately, reality shows that bad experiences are published more often than satisfied ones. Therefore, you should actively try to get your guests to rate your restaurant positively, but without being pushy. Here are some ideas on how to make it as easy as possible for your guests to rate your restaurant:
-Create QR codes that, when scanned with a smartphone, lead to the desired rating platform on the table, menu or receipt. Make Wi-Fi available to your guests.
-Train your staff to politely but not intrusively ask satisfied guests for a review.
-Include links to the review platforms on your website and in your newsletter, if applicable.
-Showcase your positive reviews on your website, social media or in your restaurant.
Modern POS and shop systems such as orderYOYO offer you the possibility to send follow-up mails to your guests after their visit or order. In these mails you can also give your guests an additional incentive to rate your shop by offering coupons or vouchers for ratings.
Responding to reviews and online complaint management
As a general rule, you should take the time to respond personally to all incoming reviews. Especially when customers leave a negative review, it is important to respond to the criticism. Almost all people who write reviews online also read the company's or owner's responses to their comments.
By responding to reviews, you show your interest in your customers and that you take both positive and negative criticism seriously. Always thank them politely for their feedback and try to make each response individual and personal. If possible, address the customer by name to establish a personal connection. It is also important to respond quickly to reviews. In the best case, write a response within 48 hours of receiving the review.
Conclusion: Customer reviews are free advertising for your restaurant.
Potential new customers trust customer reviews more than paid advertising. Customer reviews are a strong sales argument to attract new guests and at the same time free advertising for your restaurant.
Google is one of the most important review platforms for restaurant owners, as it is highly relevant to potential customers, and reviews positively influence a restaurant's online visibility. So try to get as many satisfied customers as possible to rate your restaurant in Google My Business. Take criticism from reviews seriously and respond calmly and politely. This shows that you take your customers seriously.