Buffets are a popular way in restaurants to present a wide selection of food while keeping staffing and costs low. The concept of buffets is based on allowing guests to serve themselves and either charge them a fixed price or weigh the food before consumption and charge by weight. There are also buffets with the concept of partial service, where, for example, only drinks are ordered and served at the table, and guests have to get the food themselves from the buffet.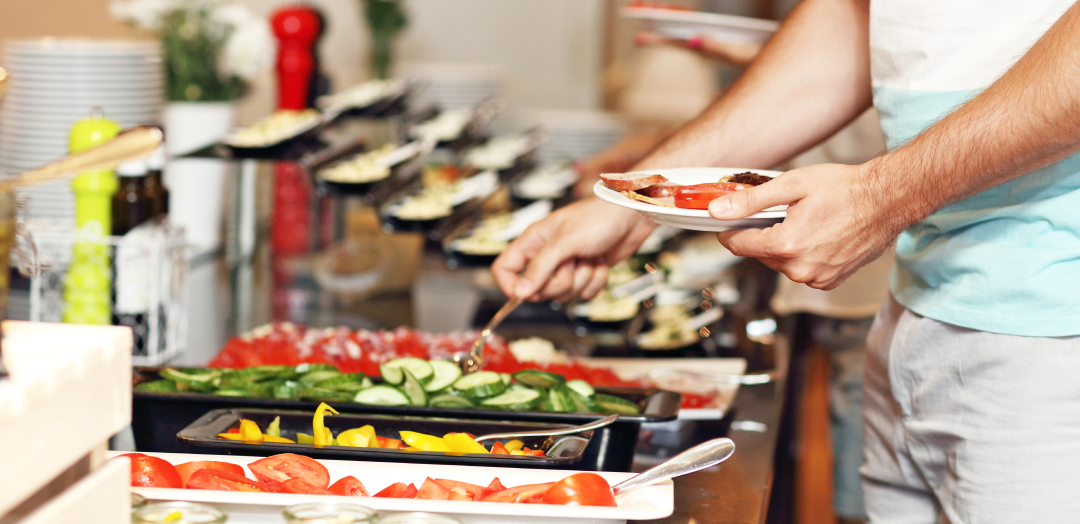 In Restaurants, you can generally distinguish between three different types of buffets: 
Standing buffet: The buffet is available daily, for example, as a lunch offer.

 

Regularly recurring buffet: The buffet takes place only on specific days of the week.

 

Buffet for special occasions: The buffet is set up and promoted only on special days or booked specifically for closed groups.

 
In the following, we will discuss the advantages and disadvantages of buffets, show the different types of buffets, and discuss factors to consider when calculating the costs.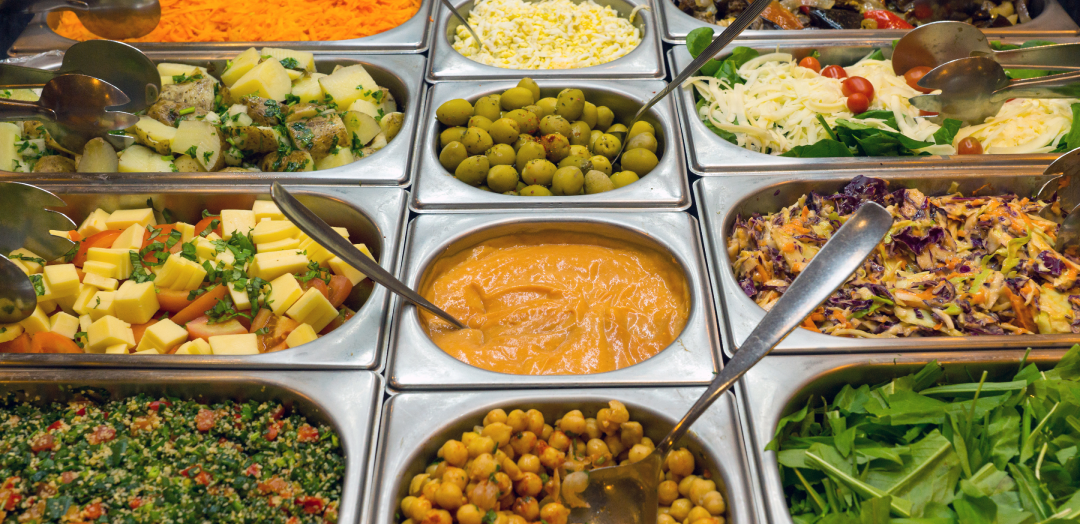 Is it worth offering a buffet in my restaurant?
As mentioned earlier, some restaurants use buffets to serve more guests during peak hours or to save on staffing costs. However, completely switching from an à la carte restaurant to a buffet offering overnight service is generally not advisable. Especially if you have many regular customers, you should carefully consider such significant changes. 
If you are considering implementing the buffet concept in your restaurant, it may be worthwhile to initially offer a buffet on special days as a trial, such as a Sunday brunch or a dessert or salad buffet in addition to your à la carte dishes. This way, you can quickly assess whether your guests are open to the idea or if you can even attract new customers. If your restaurant is busy in the evenings and you would like to increase your lunch business, you can also offer a warm lunch buffet. This is particularly worthwhile if your establishment is conveniently located for the lunch break of nearby companies.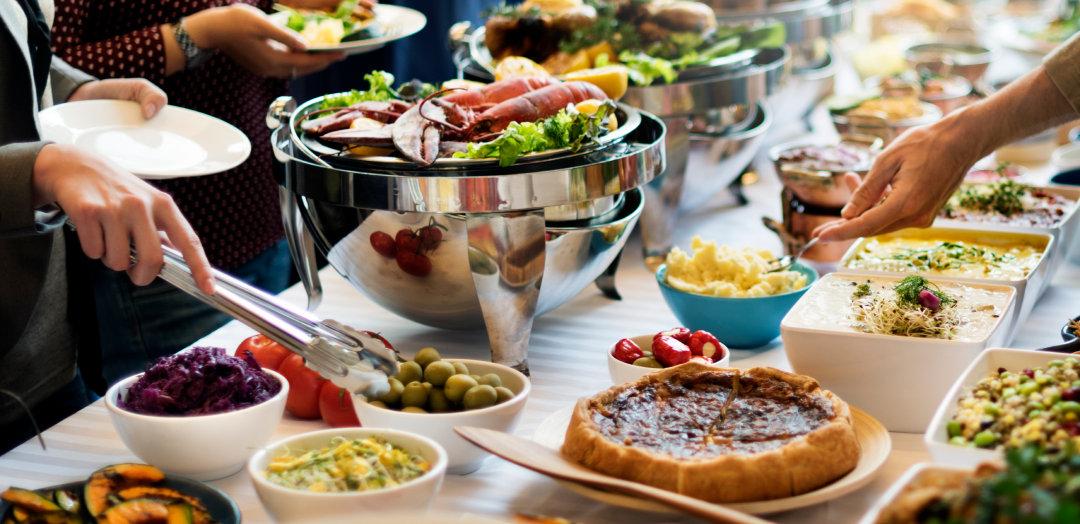 Advantages and disadvantages of a buffet compared to à la carte
Buffet 

À la carte 

Self-service or partial service from presented dishes at a fixed price

 

Free selection of individual dishes from the menu and service at the table

 

Advantages

 

Disadvantages

 

Advantages

 

Disadvantages

 

Less need for personnel

 

 

Lower profitability due to lower prices

 

Individual customization of dishes

 

 

Higher personnel and planning effort

 

 

Well-calculated food cost

 

 

Food may need to be kept chilled or warm 

 

  

(further purchases necessary) 

Personalized customer experience

 

 

As a rule, greater use of goods necessary

 

Buffet setup allows for standardized and shorter preparation time

 

 

Quality of food can decrease if kept warm for too long

 

 

More comfortable and relaxed experience for guests

 

 

Additional work for cooks due to different dishes that have to be freshly prepared

 

Attractive prices increase the number of guests

 

Permanent replenishment and keeping the buffet clean by staff necessary  

 

More peace in the room

 

Prepared food must be served immediately

 

More guests can be served in less time

 

 

Increased food waste

 

 

Dishes appear higher quality

 

 

Hard to calculate the cost of goods

 

Guests have more variety and choices

 

 

Some guests may prefer the à la carte concept and prefer to be served

 

Food can be served fresh and at the correct temperature

 

 

Lower number of guests served in the same time frame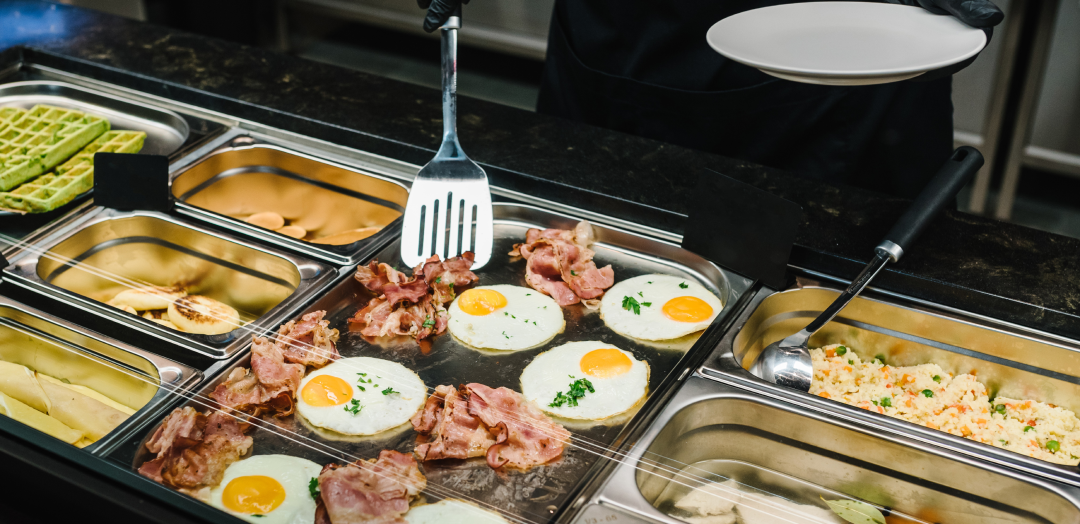 Breakfast Buffet & Brunch 
The classic among buffets is the breakfast buffet. Especially in hotels, self-service in the morning is the most popular way to satisfy all guests, but cafes and restaurants also like to offer breakfast buffets on weekends in connection with brunch. The breakfast buffet is popular among restaurateurs, mainly because it can be prepared in advance the day before. The classic breakfast buffet consists of various types of bread, spreads, cold cuts, cheeses, egg dishes, cereals, dairy products, dairy alternatives, juices, coffee, or tea.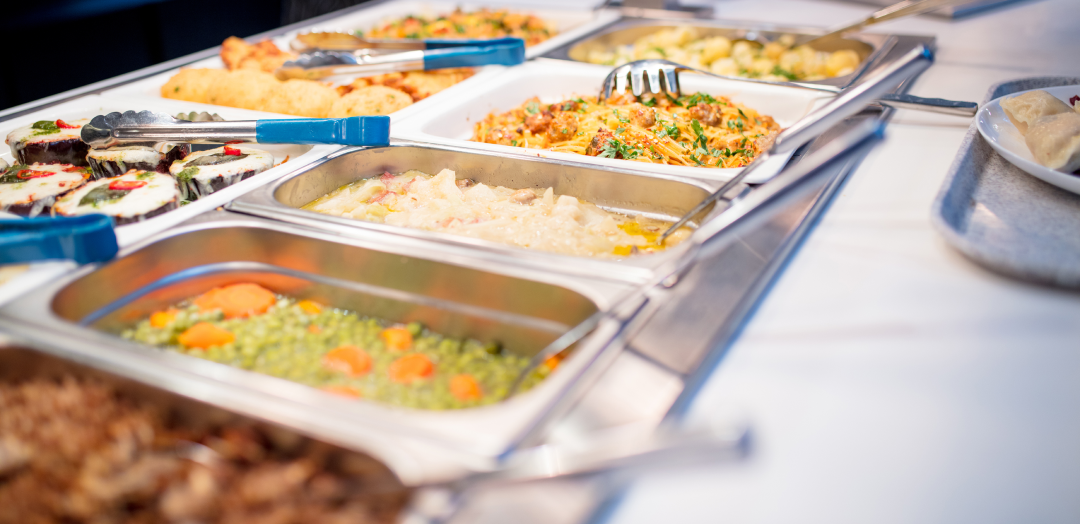 Lunch Buffet
Lunch buffets are a great option for restaurants located in business districts or areas with a high number of office workers. These buffets usually offer a variety of warm and cold dishes, including salads, soups, main courses, and desserts. The goal is to provide a quick and affordable lunch option for guests who are looking for a convenient and satisfying meal during their work break.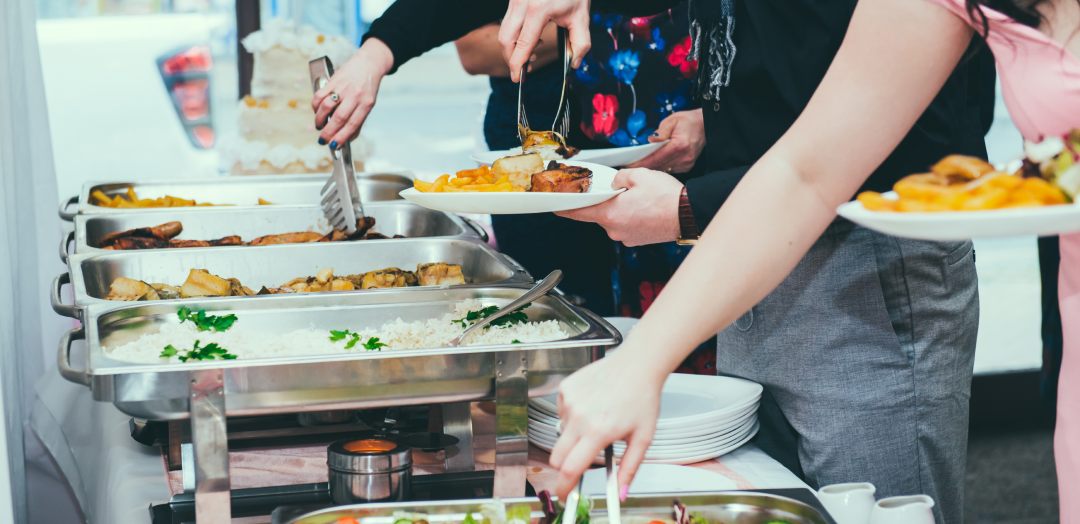 Dinner Buffet
Dinner buffets can be a popular choice for special occasions or events. They often feature a wide range of cuisines, such as international, Asian, or themed buffets like seafood or BBQ. Dinner buffets allow guests to sample different dishes and flavors, making them ideal for larger groups or gatherings where individual preferences may vary.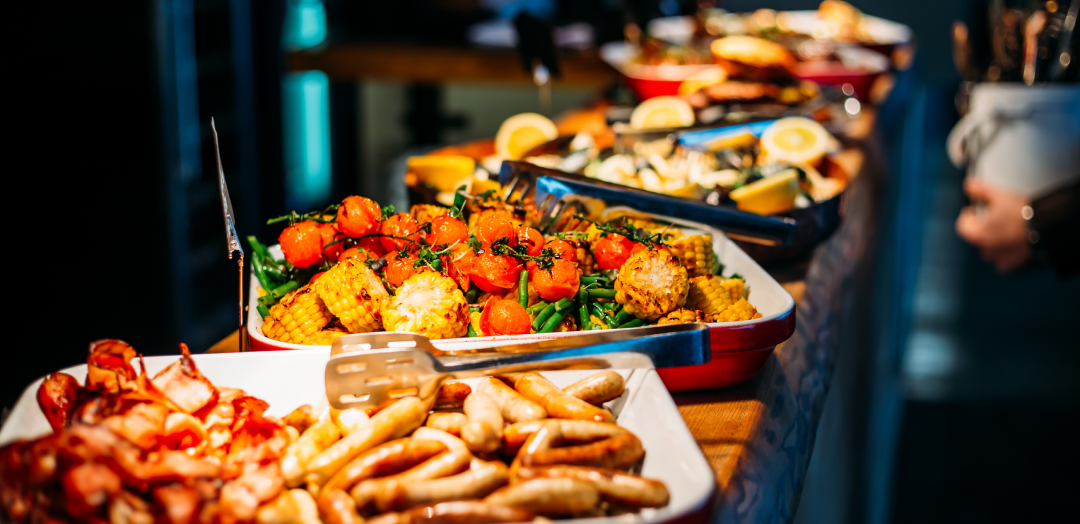 Sunday Brunch Buffet
Sunday brunch buffets have become a beloved tradition in many places. They typically offer a combination of breakfast and lunch dishes, including pastries, eggs, bacon, sausages, salads, sandwiches, seafood, carving stations, and a variety of desserts. Brunch buffets create a relaxed and leisurely dining experience, allowing guests to enjoy a hearty meal and socialize with friends or family.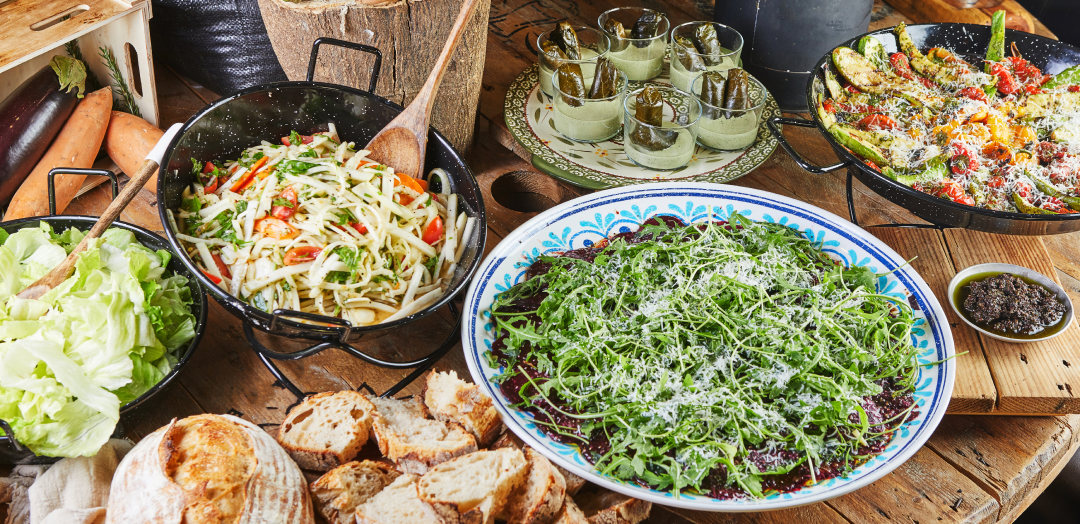 Salad Buffet
Just like the breakfast buffet, the salad buffet is part of the standard offer in many hotels and restaurants. At the salad bar, guests can put together their side salad according to their own wishes. The advantage here is that less food is wasted, as each guest only takes what they really want to eat. A salad buffet classically consists of various leaf salads, vegetables, different dressings and toppings (e.g. croutons or grains).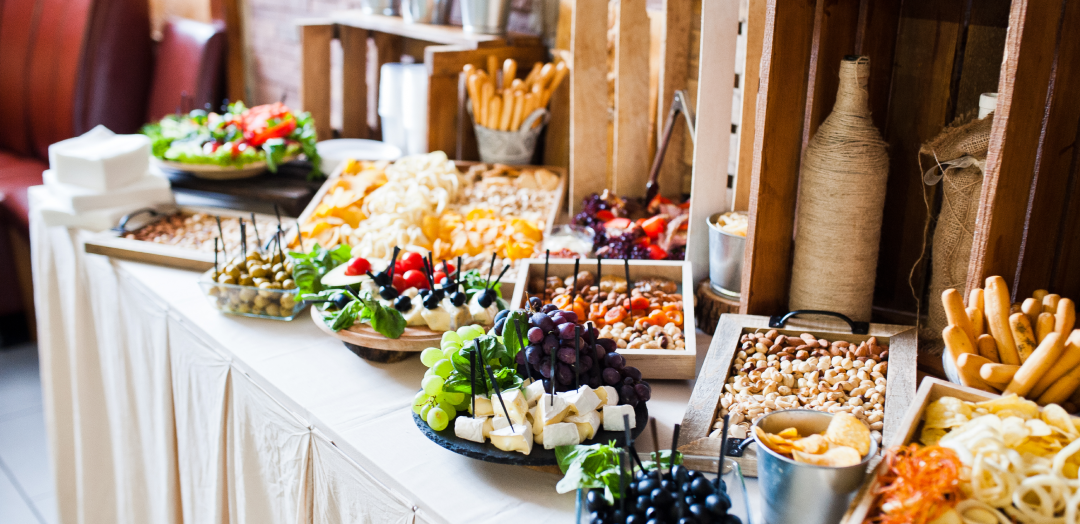 Special Occasion Buffet
At weddings or other large celebrations, extensive buffets are often ordered from the catering service or on site in the restaurant. As a rule, such buffets include starters, soups, desserts and other small items, such as a cheese platter, in addition to the main courses.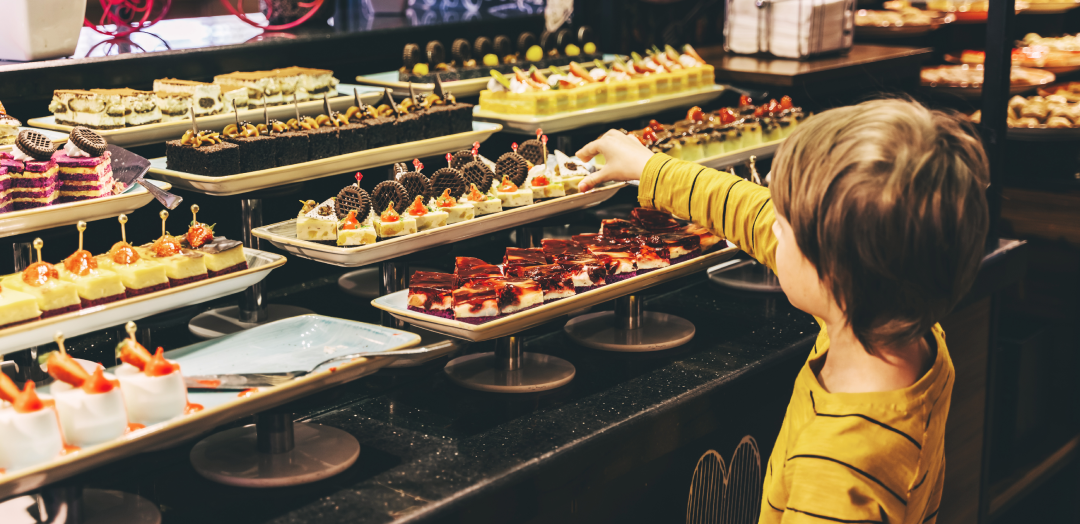 Dessert Buffet 
Dessert buffets focus exclusively on sweet treats and are often offered as part of special events or celebrations. They can feature a wide selection of cakes, pastries, pies, tarts, cookies, ice creams, and other delightful confections. Dessert buffets are particularly popular for weddings, birthdays, and festive occasions.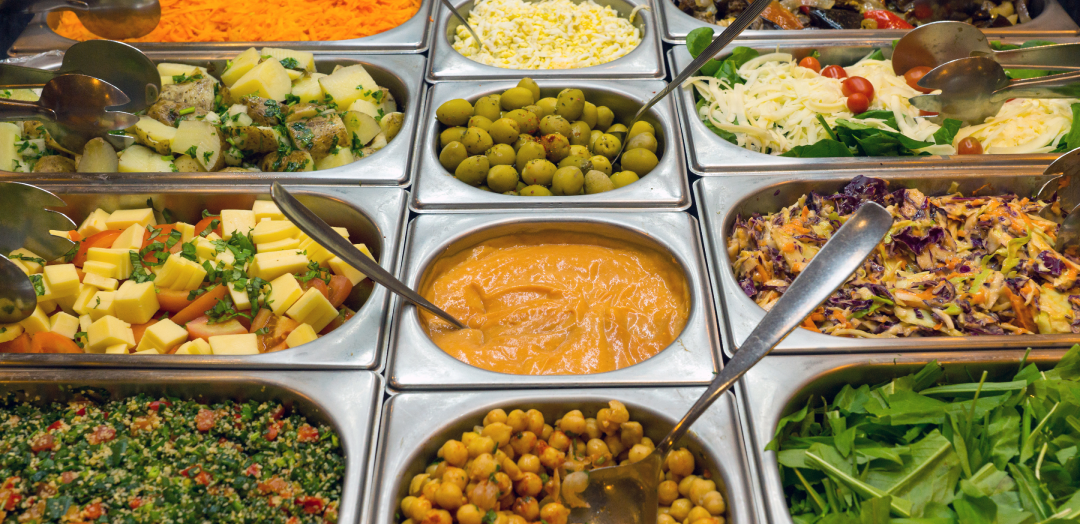 How to make your buffet a success
Make sure you have an appealing selection and a pleasant atmosphere
– Convince your guests with a visually appealing buffet
– Don't go overboard with decoration, focus on the food
– Offer a suitable selection of dishes
– Consider the requirements of your target group (e.g. regional, vegetarian…)
– Quality should be more important than quantity
– Use sensible buffet furniture and create a special hygiene concept
When purchasing furniture, make sure that it can be used flexibly.
– Make sure that food can be refilled quickly and that the surfaces can be cleaned easily.
– Draw up a cleaning plan for the entire buffet.  
Set up the buffet in a sensible way and label the food.
– Arrange the food according to defined sensible groups
– Leave enough space for individual dishes so that guests can easily take them out
– Put up buffet signs
Classic buffet layout:
– Plates, cutlery, napkins and bread are clearly visible at the beginning of the buffet.
– Followed by salads and starters, soups and the necessary soup plates and spoons
– Main courses
– Desserts
– Cutlery and napkins should again be ready at the end of the buffet  
Tip: 
Set up the buffet in the middle as one or more islands. This way the guests can spread out better.  
Train your staff in the service and running of the buffet.
– Prepare your staff for the demands of the buffet (timely refilling, clearing, cleaning surfaces).
– Plan for peak times so that there are enough staff available.
Factors to Consider for Buffet Cost Calculation 
When calculating the costs for a buffet, there are several factors to take into account: 
Food Cost: Calculate the cost of ingredients for each item on the buffet, considering portion sizes and potential wastage.

 
Labor Cost: Determine the staffing requirements for buffet setup, replenishment, and clearing. Take into consideration the time needed for preparation and cleaning.

 

Equipment and Supplies: Assess the need for additional equipment such as chafing dishes, serving utensils, plates, and glasses. Consider the cost of purchasing or renting these items.

 

Space and Layout: Ensure you have enough space to accommodate the buffet setup comfortably. Consider the flow of guests and the need for separate stations for different types of food.

 

Pricing Strategy: Determine the price per person for the buffet based on your food and labor costs, desired profit margin, and the local market competition. Consider offering different pricing options for adults, children, and seniors.

 

Food Waste Management: Implement strategies to minimize food waste, such as careful portioning, monitoring guest preferences, and properly storing and repurposing leftovers.

 
Promotion and Marketing: Develop effective marketing strategies to attract customers to your buffet, such as advertising in local media, leveraging social media platforms, or partnering with nearby businesses for joint promotions.

 
Remember, careful planning and attention to detail are essential to ensure a successful and profitable buffet offering in your restaurant. 
Calculation for Buffets in the Gastronomy Industry
 The fact that buffets minimize the need for service personnel allows restaurateurs to offer attractive prices to end consumers. However, it is still important to carefully calculate and manage costs to prevent waste and ensure profitability. 
To begin with, consider the following questions when calculating for a buffet: 
How many guests are expected?

 

How many of them are female and how many are male?

 
What is the approximate age range of the guests?

 
On average, you can estimate the following consumption per person: 
Cold buffet: 350 – 400g

 

Cold and hot buffet: 450 – 550g

 

Total: 800 – 1000g

 
It is recommended to calculate with a safety margin of approximately 25%. 
Conclusion: Buffets provide high flexibility in restaurant industry
Buffets are not just for catering events and hotels! Buffets can also be used in a variety of ways in restaurants. There are many different types of buffets that can be easily integrated and can be a welcome change. In addition, buffets can serve guests faster than traditional service – and often require fewer staff. With a buffet, you can offer your guests a wider choice of dishes and they can choose exactly what they want to eat and how much of it. Given the diversity of dietary needs today, this is a significant advantage.